Transportation in Iran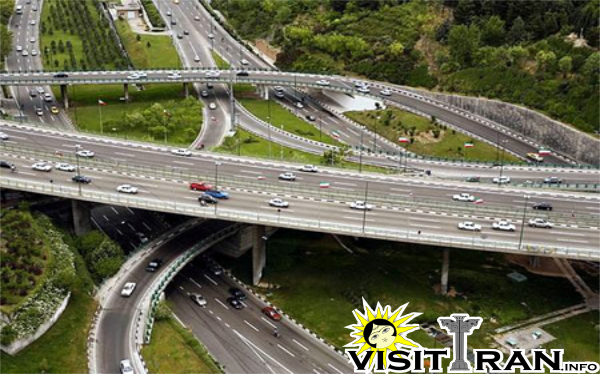 Transportation in Iran is relatively inexpensive and easy. The connectivity between the different cities via railways or bus routes make commute between them quite convenient. As a tourist, do expect to pay a bit more than the locals for your commute but the difference is not that much. Below you will find almost everything you need to know about transportation in Iran.
Car Rental:
If you have an international driving license, you can easily rent a car in Iran. One of the most used websites for this purpose is Europcar which allows you to pick up your car in one city and return it in another. Currently there is the option to rent / return in one of the following four cities: Tehran (airport), Shiraz, Isfahan and Bandar Abbas. To do so just follow the normal procedure on the website for car reservation and you will receive a confirmation email from the local licensee. Since you can't use your credit card in Iran, a cash deposit of around 800 euros is required by car rentals. And the cost of renting the car would be something between 30 to 100 euros per day depending on the car you choose. The fuel price in Iran is quite cheap compared to Europe. On average one liter of petroleum costs 30 cents. Therefore renting a car is an attractive option for the tourists. Furthermore you will have more flexibility visiting different places.
Between the cities the traffic is usually light however in the big cities do expect long traffic jams. Driving in Iran can be a bit challenging for western drivers as not everyone follows the traffic rules. The following tips/info can be helpful if you are planning to rent a car in Iran:
Driving is on the right side of the road.
Minimum age of driving is 18 years old.
You must possess an international driving license/permit.
It is mandatory for all car occupants to wear seatbelts.
Having the car documents, your license and a third party insurance by you is mandatory.
The traffic signs are mostly in both Farsi and English, however there are some traffic signs that are only in Farsi. If you got lost, just ask the other drivers for help. Most people are more than happy to be helpful to the tourists.
Expect sudden change of lanes by the other drivers! Driving in Iran is almost like a video game, people will enter your lane from left and right but as long as you are alert you won't have any problems. It just needs some getting used to.
Even though it is advised to drive defensively, don't expect other drivers to give you your right of way!
Filling stations are to be found almost in every neighborhood and the attendants will gladly help you. Unlike in the Europe or US, you will pay the for the fuel right outside after tanking. So if you see a guy standing there with a handful of cash and asking you to pay for your fuel, don't be surprised!
The emergency phone number for traffic accidents (and any other emergencies as a matter of fact) is 110. By accidents or any other issue call this number.
Taxi:
Even though you can take a taxi almost to anywhere in Iran (even between cities), it is advised to use this option only for your city travels (since a private taxi would be expensive for intercity travels and shared taxi would not be the most comfortable!).
There are generally three kinds of taxi's in Iran:
Private taxi's (via agency): you can call for a taxi to pick you up and drop you off almost anytime and anywhere. Just ask a local for the phone number of the nearest taxi agency (you can also see their shops in almost every major street. This is of course the most expensive kind of taxi but at the same time most reliable. A taxi trip of 30 minutes would cost something like 5-7 USDs.
Shared shuttle taxi's: they usually operate between fixed locations however the connectivity is quite good as almost every major square and street of the cities are accessible by these shared taxi's. You will have to either step in the taxi at their official stops or if you see one passing your way and still has room just shake your hands and they will stop to let you in. However do ask if they are really going to the direction that you are looking for. The price for shared-shuttle taxis are a lot cheaper (depending on the destination and distance but imagine the same cost as private taxi's shared between 4 people). Many private cars also do work as shared-shuttle taxi's however it is advised to use the official ones.
"Dar-Bast" Taxi's: literally translated to "Closed doors" taxi's, are just like private taxi's but you can just hail them on the street. The price is also comparable to the private taxis however do negotiate the price from the beginning as otherwise you might pay a lot more than you expect. These kind of taxi's don't have a fixed price and their prices are usually based on your negotiation skills!
Public Transportation in the cities:
Public transportation in Iran is relatively cheap, however it is usually not the most convenient. Bus prices are usually between 10 to 50 cents (depending on the destination) and the men and women have to seat separately (men in front, women at the back). You can buy electronic tickets for the majority of the buses but you can also pay with cash (have your money ready when getting in the bus). The bus stops are not distinguished clearly, therefore it is advised to ask the driver or other passengers to let you know when you arrive at your intended destination (they will usually gladly help you).
In Tehran and Mashhad, you can use the metro for fast commute in the city. The price for one-way ticket is 0.25 USD and two-way tickets costs around 35 cents. The metro in Shiraz and Isfahan are still under construction and not operational yet.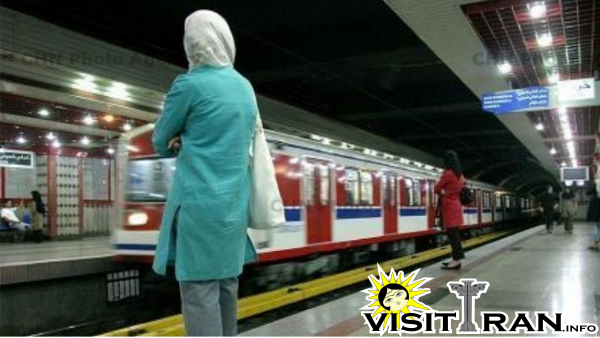 Intercity transportation:
If you are travelling to large cities, such as: Shiraz, Tehran, Mashhad, Isfahan, Tabriz, … you can easily book a flight via an agency. The agencies can be found almost in every neighborhood (just ask a local or your host or the receptionist at your hotel for the nearest agency). The flights are fairly priced and the easiest way to travel. However it should be noted that the planes are a bit old.
There is also the option to travel by train. The railways connect almost the four edges of the country. There are different classes of trains that you can make use of. The names can vary between different cities however a general categorization is first and second class trains. You can book a coupe or single seat. Below you can find an indication of prices in 2015 for the famous destinations:
Tehran – Mashhad: 80,000 Tomans.
Isfahan –Mashhad: 90,000 Tomans.
Tehran – Ahvaz: 70,000 Tomans.
Tehran – Tabriz: 50,000 Tomans.
Tehran – Isfahan: 35,000 Tomans.
Tehran- Shiraz: 80,000 Tomans.
Tehran – Bandar Abbas: 60,000 Tomans.